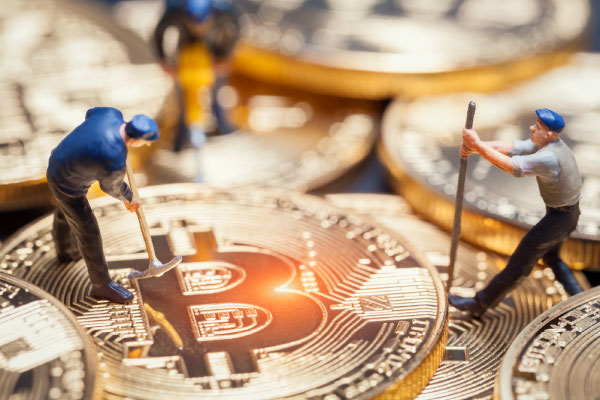 PRNEWSWIRE
In a global marketplace where Internet-based technologies increasingly allow businesses the means and confidence to work with each other beyond political borders and with a minimum of governmental interference, cryptocurrencies have the potential to create a B2B interdependent financing system – perhaps even a single, common digital currency someday – because of the blockchain technology that underpins cryptocurrency trade. With the beginning of market movement for the New Year, cryptocurrency started just shy of $613 billion in total capitalization and climbed steadily toward $750 billion on Jan. 4, showing an exponential rise just since April 2017 when it passed the $25 billion mark. ChineseInvestors.com, Inc. (OTC: CIIX) (CIIX profile) is one of the businesses committed to the development of blockchain-based cryptocurrencies, recently announcing plans to spin-off two of its corporate divisions tied to hemp marketing and the burgeoning legal cannabis industry in order to focus on its cryptocurrency division (http://nnw.fm/5sf8Z). Other companies preparing to capitalize on opportunities in the blockchain sector include MGT Capital Investments, Inc. (OTC: MGTI), LongFin Corp. (NASDAQ: LFIN), Bitcoin Services, Inc. (OTC: BTSC) and Overstock.com, Inc., (NASDAQ: OSTK).
ChineseInvestors.com (OTCQB: CIIX) provides innovation in real-time market analysis and educational services in Chinese language character sets, support services for advertising and public relations, and the sale of hemp-based products and other health-related products. Despite China's prohibitions on trading cryptocurrencies as a regulated central exchange, company CEO Warren Wang stated in an interview last month that many Chinese investors are trading them legally on unregulated "over the counter" platforms that connect individuals to each other. And ChineseInvestors.com showed its own commitment to cryptocurrency by installing a Bitcoin ATM in the lobby of its San Gabriel, California, headquarters (http://nnw.fm/VIa3n). Wang called it the first such automated teller for cryptocurrency within the Chinese community in the United States and said it has generated a lot of traffic.
China serves as an example of the mutual distrust that drives cryptocurrencies' prospects while relying on so-called "miners" to establish a level of trust in the legitimacy of the exchanges.
Despite the lack of a regulated Chinese exchange to trade cryptocurrencies and what Wang referred to as the Chinese government's "badmouthing" of bitcoin though its official TV media outlet, the CEO said Chinese-speaking people within China and North America are very interested in buying, selling and trading bitcoin among themselves and he urged entrepreneurs to be patient as the community learns the ropes.
"I believe Chinese investors will be the richest group in the world in (the) next 20 years, because Chinese middle class are emerging since 2000 when the country opened the door to worldwide people," he said in an interview with NetworkNewsWire (http://nnw.fm/U2Uct). "Real estate is very expensive and so are labor and rents in China. Investors have a high savings rate. They now would like to make bitcoin and other cryptocurrencies part of their assets."
Blockchain technology was established on the principle that an unalterable digital ledger of transactions (arranged in blocks) requiring transparency among multiple parties would reduce the risk of fraud and prevent duplication in the transactions. It was proposed as the foundation of an alternative, people's-run economic system that would not require the security of an established storefront middleman like a bank to uphold the transactions. Critics have questioned it on a commodities basis, searching for an undeniable stability that investors can rely on.
ChineseInvestors.com's ATM is one example of the company's commitment to providing cryptocurrency education. The company recently attended a Toronto cryptocurrency roadshow and educational seminar on how to buy, sell and manage the coins, and it produces a daily video from the New York Stock Exchange called 'Bitcoin Multimillionaire' that is focused on news about the currency (http://nnw.fm/Lfrx8).
"In an effort to expand its media products, as the first quarter of fiscal year 2018 came to a close, the Company announced that it would be working with Wall Street Multimedia (WSM), an independent news agency located in the NYSE, to produce a daily cryptocurrency video newscast in Chinese, providing timely information and exclusive analysis regarding all aspects of the emerging digital currency world, including specific cryptocurrencies, such as 'Bitcoin' and 'Ethereum,' industry trends, price movement, blockchain technology, sector-related stocks and ETFs, etc.," ChineseInvestors.com stated in its most recent 10Q filing in October.
The company has offices in Shanghai, New York and California, and has plans to expand to Canada.
"There's so many cryptocurrencies from China emerging, or at least on the exchange right now," Wang said, referring to a sort of anti-governmental sentiment and a "huge demand from (the) Chinese community trying to learn these assets and what (they) are about" that "gives us tremendous opportunity to bring the revenue and profitability to our shareholders."
Other companies focused on the potential of blockchain's financial applications include:
MGT Capital Investments (OTCQB: MGTI), which is a Northwestern United States company deeply invested in cybersecurity technologies for mobile and corporate applications. The company is also one of the largest worldwide working in Bitcoin mining and announced agreements in December to secure "reliable and adequate" electrical power in Sweden to begin bit mining operations there by the end of January. (http://nnw.fm/noP3K).
LongFin (NASDAQ: LFIN) specializes in structured commodity trade finance worldwide and works to establish markets and ensure liquidity through technological advances. The company stated in the fall of 2017 that it aims to connect 70 FX and spot exchanges with 300 banks through its electronic market platform, and in December made headlines when the acquisition of Ziddu.com sparked a huge cryptocurrency fever-inspired bounce in trading (http://nnw.fm/jRr8I).
Bitcoin Services (OTC: BTSC) is another company that performs bitcoin mining services, and began mining its own cryptocurrency known as Dash in early 2017. The company develops and markets blockchain-related software, and created subsidiary CryptoCapital Corp. in the fall of 2017 as a cryptocurrency holding firm, or a digital wallet, that would let users store multiple digital currencies in one place.
Overstock.com (NASDAQ: OSTK) solidified its goal of bringing greater transparency and efficiency to capital markets by launching an initial coin offering (ICO), cryptocurrency's version of a stock initial public offering (IPO), in December through its exchange operator, tZERO. The "pre-sale" phase targeting strategic purchasers began Dec. 18 and a "subsequent sale period" phase seeking agreements with other accredited investors is scheduled to begin Jan. 18. Overstock is the third-most-active corporate blockchain investor worldwide, according to a CB Insights report (http://nnw.fm/Cd39K), and may even consider selling off the retail business to focus on the 10 blockchain companies it owns (http://nnw.fm/Sx0gO).
Amid a worldwide effort to conduct business across borders as seamlessly and transparently as possible, blockchain technology and its financial sector development as cryptocurrencies are building confidence in an alternative economic system built on the need to overcome mutual distrust that exists between trading partners, governments and people in general as they strive to successfully work together.
For more information on ChineseInvestors.com, Inc. visit ChineseInvestors.com, Inc. (OTCQB: CIIX).